Dumpster Sizes
Get a quote fast, call us at: 352-441-2821
Our customer service staff will answer all your questions.
Our prices are the cheapest in Florida without hidden fees.
No hassle, no brainer, simple easy contracts.
Fastest delivery and pick-up in northern Florida.
We are a local family-owned business in Gainesville.
Waste management is a critical aspect of maintaining cleanliness, sustainability, and environmental responsibility in various industries. Whether it's a construction site, a residential area, a commercial establishment, or an event venue, proper waste disposal is essential to prevent pollution and promote a healthier environment. One of the key components of waste management is choosing the right dumpster size to accommodate the specific volume of waste generated.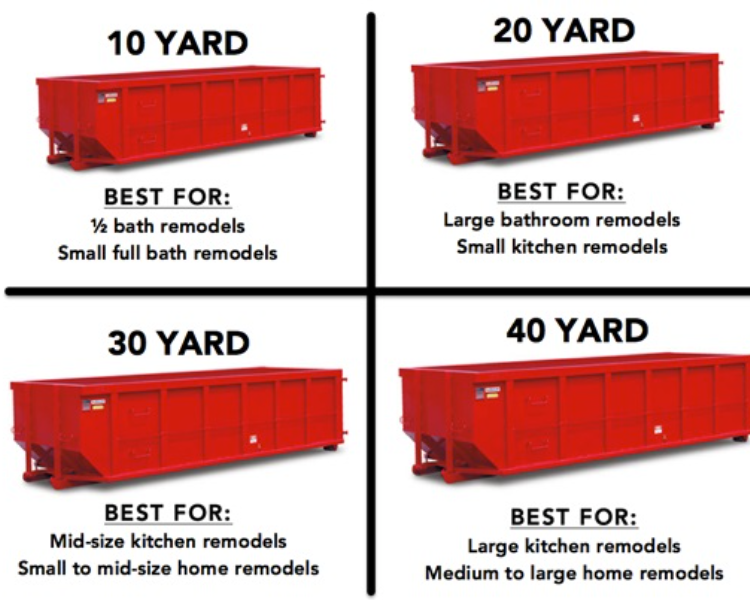 Understanding dumpster sizes
Dumpsters come in a range of sizes to cater to diverse waste management needs. The right dumpster size ensures efficient waste disposal, minimizes operational disruptions, and optimizes resource utilization. The sizes of dumpsters typically vary from small to large, with each size tailored to specific types of waste and quantities. In our company, we offer a comprehensive selection of dumpster sizes, allowing clients to select the most appropriate option based on their waste volume and disposal requirements.
Dumpster Size Options
10-Yard Dumpster: Small-Scale Projects
The 10-yard dumpster is the smallest option available and is ideal for small-scale projects such as residential cleanouts, minor renovations, and landscaping projects. It can hold approximately 10 cubic yards of waste, which is roughly equivalent to three pickup truck loads. This size is perfect for projects that generate moderate amounts of waste without taking up excessive space.
20-Yard Dumpster: Versatile and Popular
The 20-yard dumpster is a versatile option that suits a wide range of applications. It can accommodate about 20 cubic yards of waste, making it suitable for larger residential projects, medium-sized renovations, and moderate construction tasks. This size strikes a balance between capacity and space requirements, making it a popular choice for various scenarios.
30-Yard Dumpster: Construction and Demolition
For more substantial projects like construction sites and major home renovations, the 30-yard dumpster is an excellent choice. With the ability to hold around 30 cubic yards of waste, it's designed to manage significant volumes of debris efficiently. This size is particularly beneficial when handling construction and demolition waste, which can accumulate rapidly.
40-Yard Dumpster: Industrial and Commercial Applications
The 40-yard dumpster is the largest option and is well-suited for industrial and commercial applications. With a capacity of about 40 cubic yards, it can handle substantial waste volumes generated by large-scale construction projects, commercial renovations, and industrial facilities. This size is ideal for managing bulkier waste materials and ensuring seamless waste disposal in demanding environments.
Benefits of Choosing the Right Dumpster Size
Cost Efficiency: Opting for the right dumpster size prevents overestimating or underestimating your waste disposal needs. By choosing a size that matches your waste volume, you can avoid unnecessary expenses associated with renting a larger dumpster than required.
Space Optimization: Different projects have varying space limitations. Selecting an appropriately sized dumpster ensures that you're efficiently using the available space without causing clutter or obstructions.
Environmental Responsibility: Proper waste management contributes to environmental sustainability. By choosing the right dumpster size, you minimize the chances of overflowing waste, which could lead to littering and pollution.
Operational Efficiency: Having a dumpster that suits your waste generation rate prevents frequent emptying, which can disrupt your project's progress. Conversely, having a larger dumpster than necessary can lead to inefficient resource utilization.
Legal Compliance: Some municipalities have regulations regarding waste disposal and dumpster sizes. By adhering to these regulations, you avoid potential fines and legal complications.
Matching dumpster sizes to project types
Residential Cleanouts: For spring cleaning, attic or basement cleanouts, and minor home renovations, a 10- or 20-yard dumpster is generally sufficient.
Home Renovations: Moderate-sized home renovations, kitchen remodels, and bathroom upgrades usually benefit from a 20-yard dumpster.
Construction Sites: Construction projects, including new builds and significant renovations, are best suited for 30 or 40-yard dumpsters, depending on the scale of the project.
Commercial and Industrial Sites: Large-scale commercial renovations, industrial waste disposal, and construction activities demand the use of 40-yard dumpsters to manage the substantial waste output.
The range of dumpster sizes offered by Gainesville Dumpster Rental Center serves as a cornerstone for effective waste management solutions. The diverse selection of dumpsters caters to a wide spectrum of needs, whether it's a small residential cleanup project or a large-scale construction endeavor. With a commitment to convenience, affordability, and sustainability, Gainesville Dumpster Rental Center empowers residents, businesses, and contractors alike to efficiently dispose of waste and debris.
Choosing the right dumpster size is a critical aspect of effective waste management across various industries. In our company, we understand the importance of offering a diverse range of dumpster sizes to accommodate the unique needs of our clients.
Get a quote fast, call us at: 352-441-2821
Our customer service staff will answer all your questions.
Our prices are the cheapest in Florida without hidden fees.
No hassle, no brainer, simple easy contracts.
Fastest delivery and pick-up in northern Florida.
We are a local family-owned business in Gainesville.